Alien Kill – Mastertronic, 1984
It's not very often I get the opportunity to skip instructions, so it was a nice surprise to be able to here. And it's a good job I did, because there really isn't much to it, and I'd hate to have to read through dozens of screens of crappy, beeping text to find out that I have to shoot through a wall to kill a blue triangle thing.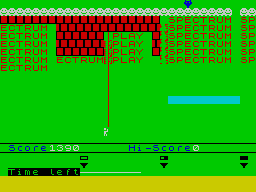 Also, I should probably have loaded it on a 48K machine. Ho hum – it's not interesting enough for me to load it up twice. PLAY out of SPECTRUM, and the next one please…
Well, that's just fantastic. A game so irredeemably old school that it doesn't have a BASIC loader. Oh no – you just have to know where to load it to, and what address to RANDOMIZE USR to get it to run.
Y'know, Spin is a fantastic emulator, but the one thing it's missing is the ability to eject a virtual tape and throw it at a virtual wall in an effort to bounce it into a virtual bin. Maybe I should submit a bug report.

Alien Rain – Impact Software, 1983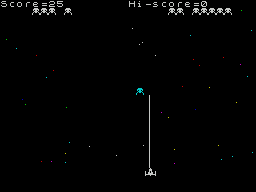 Space Invaders again. This time the twist is that the aliens stay at the top of the screen, and one at a time charge towards you one. If they get past you your ship moves a level up the screen. Only one life, and the controls feel very much like Alien Destroyer. And like Alien Destroyer, it's actually not too bad a game. Six out of ten, for sure.

Alien Rupture – Green Fish Software Enterprise, 1984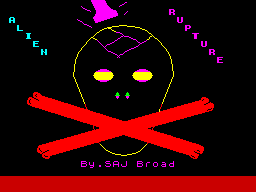 I couldn't get past the title screen. Next.