Target; 2006 is a Windows-based remake of Target; Renegade, the acclaimed 1986 Spectrum beat-'em-up by Imagine. Continuing the storyline from time-travelling adventure Renegade 3, this game sees the timeline warped – Mr Big has returned tougher than ever, and this time is ready for you. But this time you can not only take more than one ally with you… but you'll be able to read the text even if you're Spanish or French! (Probably.)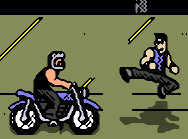 This action-packed beat-'em-up allows up to six players to take on the criminal underworld. Fight your way across the city using fists, feet and anything handy that's lying around. Take on vicious biker gangs, mobs of punks and shifty-looking guys in baseball caps.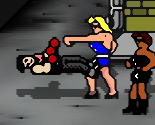 V1.3 Features
Further improved graphics by Dean Swain!
New Spanish translation by Lex Sparrow!
Anti-aliasing mode for people with giant monitors!
Several stupid bugs fixed!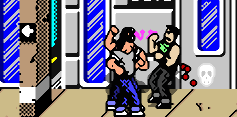 Target; 2006 is now obsolete, having been superceded by Eight Dragons.
Download Windows installer v1.3 (15.3MB, 25 Aug 2007)
Download Windows installer v1.2 (21.7MB, 09 Jan 2007)
Download Windows installer v1.1 (23.1MB, 02 Jan 2007)
Based on a game by Mike Lamb, Dawn Drake, Jonathan Dunn and Gary Biasillo.