'Distribution denied' are the two saddest, feeblest, most pathetic words that have ever been associated with the 8-bit scene. Twenty-three years since the game was released, and eighteen years since a commercial computer designed to play it was last built, Ultimate refuse to just let everybody play their old games. Now, this in itself isn't the bad thing. The bad thing is that the copyright holders aren't even selling it. Can anyone tell me the point? Does anyone really think that an emulated version of Alien8 would interfere with the sales of an updated one created two decades later?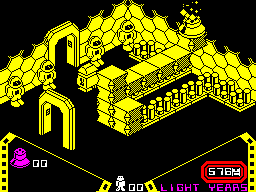 But anyway. Alien8 is a typical Ultimate isometric game, which basically means that it's too hard for its own good, and certainly wasn't worth digging out the tape for. (You were expecting me to fawn over Ultimate because they're a classic developer? No chance, matey – there's plenty of unheard-of games for me to fawn over without suggesting you play critically-acclaimed tosh.) All that fuss for something so tiresome, eh? Tch.

Alien Attack – ACE Software, 1983
I don't even want to think about how many times I'm going to have to play Space Invaders for this feature. But here it is again, anyway – a cheap little Space Invaders clone. But! This one has a couple of tricks up its sleeve. First, the aliens move around at their own pace, thank you very much – none of this formation marching down the screen for them. Second, when they do land, they just land. You can't move past them, but you can only be killed by being shot by descending aliens. And third, you can actually win.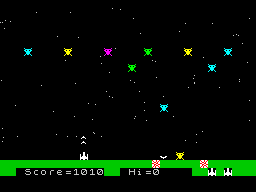 There's not much of a game here, but what there is is more fun than Alien8.

Alien Attack – R D Foord Software, 1984
'Alien Attack' seems like a bit of a crap name, to be honest. It's not the worst title I've heard this year (that'd go to Jumper), but it still smacks of a lack of effort.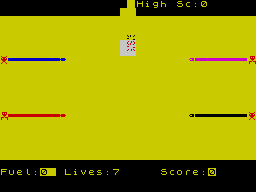 And speaking of a lack of effort, this game's a bit rubbish too. Fly a spaceship to dodge some rockets, fine – but I'm pretty sure that even the worst of NASA's rag-tag fleet don't explode when it runs out of fuel.
It makes the noise when it loads. Ugh.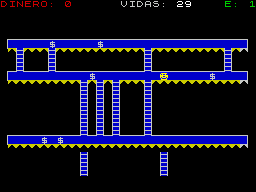 Also, the graphics are so unbelievably flickery as to be unbearable. If that wasn't bad enough, when you die the randomly-generated level you're on is completely regenerated, so you can't just keep trying to beat one level. And to add insult to injury you get given thirty lives, so I'll never know what the 'game over' screen looks like. Crap, but not as crap as the crap Alien Attack.