Not long after Amstrad bought out Sinclair Research, ol' Al Sugar came up with a great idea. He'd build his own IBM compatible PC, stick it into a Speccy-style keyboard case, and put it out for a mere three hundred quid. To do this he'd build it out of obsolete parts. He's a card, old Alan, innee?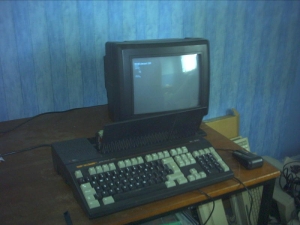 That big old thing sticking out the back is the hard drive. Yes, really. The PC200 has two ISA slots, and the only way to get a hard drive in there is to, well, stick it in sideways. Still, once it's there it's quite a handy bit of kit. (Especially when the internal floppy drive's failed, like mine has, and you're too lazy to hook up the external one and find some disks.)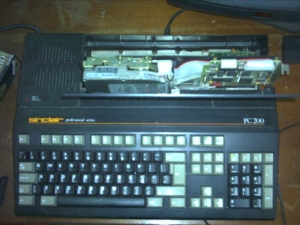 Now, we all know that a PC isn't a PC unless it's got a proper operating system. Well, the Sinclair offering certainly has that – that monstrous hard drive is concealing no less than Microsoft Windows.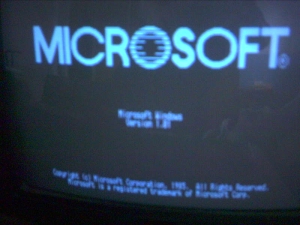 Fantastic, eh? It can even multitask! (Sort of.) And it's got all sorts of wonderful little utilities, like the clock…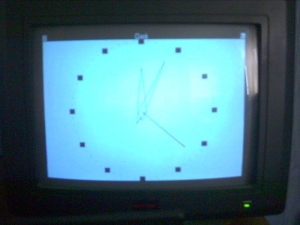 Alright, so it's not really that little. But still, eh? I'm sure there's a way to shrink it, probably. It just doesn't involve anything I can think of. Still, the only real alternative to Windows is GEM, and it just doesn't have quite the same whiz-bang fanciness of Microsoft's baby. I mean, look at it.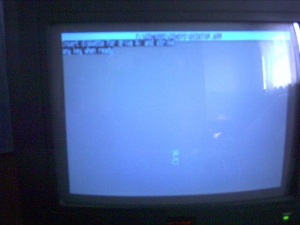 On the other hand, the clock doesn't take up the whole screen.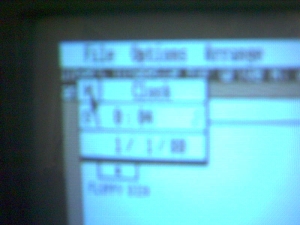 Okay, the GUIs suck. But there's still good old DOS to play with, and that's all you need to get the really important software going – games. After all, we've got a nice little colour monitor here, haven't we? Be silly to waste all those lovely colours on a spreadsheet or something. Here's Batman – The Movie. (No, really.)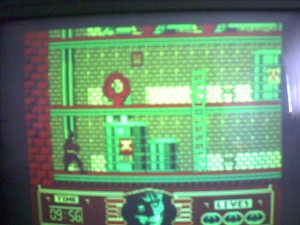 Such an interesting colour scheme. Y'see, part of Alan's wheeze was to fit a CGA display interface to his new Sinclair machine. Good one, Mr Sugar! Nobody'd ever want more than four colours, would they? This EGA thing that was introduced in 1984, four years before the PC200 was released? Just a fad, I'm sure. Give it a year or two and everybody'll see it your way, just like they did with the three inch disk.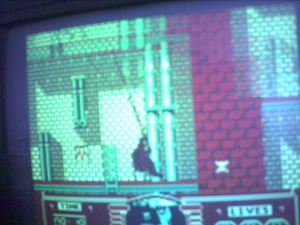 Anyway. It's the gameplay that matters, and these ancient PC releases do have a certain charm. Batman The Movie plays just like the Spectrum version, only with worse graphics. The Amazing Spiderman works in a similar way, what with the webslinging and all…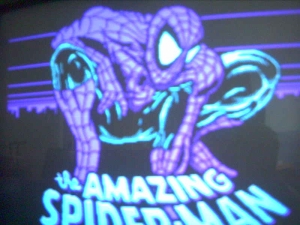 The swinging around bit actually works better here, though, since not only do you have more room to play with, but you can also fire your webs from anywhere. You can properly swing across a room with multiple webs, just like the real Spiderman! You can even walk on the ceiling! (Also, if you put it on a real PC it looks great in VGA.)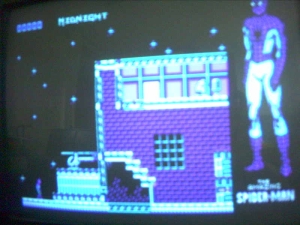 Surprisingly STUN Runner works quite well.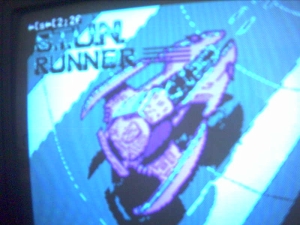 It's got proper 3D graphics and everything.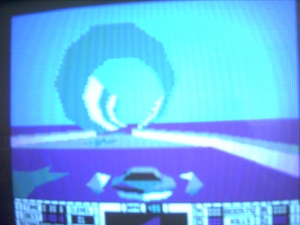 Of course, it's only going at about four frames a second, but it's still impressive in its own way.
So there we are. The Sinclair PC200 in all its glory. If you're thinking about getting into weightlifting, or need something to keep a squealer at the bottom of the river, I can highly recommend this astonishing piece of hardware. Two thumbs up!