There are a lot of games listed on World of Spectrum. Well over eight thousand right at this moment, in fact. So when faced with such an awesome list, how do you decide what you want to try? Well, here at YS3 we've pondered long and hard over a solution. And here it is – we're going to review every game there.
Not all in one go, of course – that would be sheer madness. Instead, we're going to break that list down into manageable chunks. So, without further ado, here's the first installment of the YS3 Complete Guide to Spectrum Games.
AA Zempl – Axoft, 1991

Okay. Not off to a great start here – as you can see this isn't English or French, and that's as far as GCSEs took me with languages.

There's a bunch of these screens to get through. You can select each line with Q,A and Enter, but it doesn't seem to do anything but move you to a similarly incomprehensible screen.

Then I found that I could move the lines from left to right. Very strange. After this it started asking me questions in big letters, but I couldn't understand any of it. Overall then, I'll have to give it hatstand out of ten.
La Abadia Del Crimen – Operasoft, 1988
I couldn't get this one to load.
Abakus – unknown
Another language I don't speak.
a,b,c… Lift-Off – Longman Software, 1983
The aim of this one is to get a rocket to launch. To do this you have to hit the next letter in the word displayed on screen inside of a time limit. It's pretty straightforward, but then I suspect I'm not the target audience.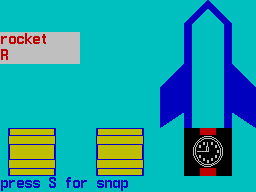 It's written in BASIC, and so the rocket and everything around it takes an age to draw. Also, it spends a good three or four seconds each round drawing really rather good pictures of objects underneath the rocket, like a train or a mouse or something, and then displaying an entirely unrelated word.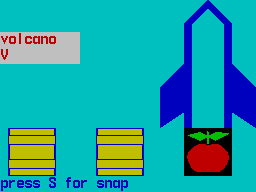 Also, it doesn't seem to matter what key I press at all, or even if I press a key or not. I've no choice but to give this one xylophone out of ten.
Abe's Escape Mission – Brothers 2002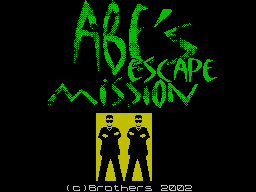 Ah, here's an interesting one. It seems to be a fan-made Abe's Odyssey game. It's got an excellent title screen, and a nicely atmospheric ditty in the background, and pages and pages of background story in there too. Okay, I can't read any of it, but still.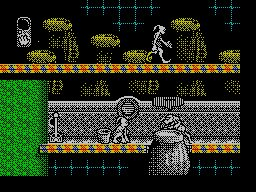 The game itself is a flip-screen platform adventure, much like, well, Abe's Odyssey. I can't read any of the in-game text, sadly, but I can run and jump around and get killed by guards (who tell me to freeze in English – not that that helps…).
Eight out of ten.
Abington – unknown
It's a text adventure that loads immediately into the game, and displays the location description in ALL CAPS. Nul points.
Abracadabra – Odisea Software, 1988
Gah, it's in Spanish! Still, at least it's a language I've at least a passing familiarity with. (I can't speak it, but I can understand that 'Pulsa una tecla' probably means 'Press a key'.) It's certainly interesting trying to figure out what a screen like this means though…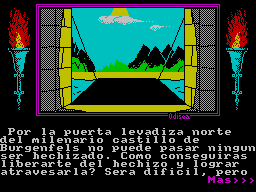 If only Google could translate it for me without any retyping, eh? Turns out that this isn't just an intro screen – this is the first room in a text adventure. Still, at least it's not shouting the room description, eh? Penumbra del recinto out of ten.
Next time on the Complete Guide: Abu Simbel Profanation to Ace of Aces! (Or thereabouts.)