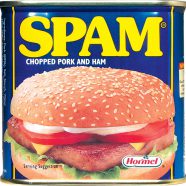 May

11
Tags
Related Posts
Share This
More Sarcastic Spam
I was wondering if you ever considered changing the page layout of your website? Its very well written; I love what youve got to say. But maybe you could a little more in the way of content so people could connect with it better. Youve got an awful lot of text for only having one or two pictures. Maybe you could space it out better?
Corinne Holmer
I just tweaked this website to make it perfect*! There's no way it could be spaced out better! Ed.
*Perfect for me to use on a giant TV from across the room, not for you on a 2.5″ screen mobile phone.

Please let me know if you're looking for a article author for your site. You have some really great posts and I feel I would be a good asset. If you ever want to take some of the load off, I'd love to write some content for your blog in exchange for a link back to mine. Please shoot me an email if interested. Thank you!
Misha Torbeck
We've got enough people not writing for this webzine as it is, we don't need any more thank you very much. Ed.
You have come too far to accept to the demands of the democratic fringe!
Curt Westry
I used to have a democratic fringe. Sadly I'm beyond all of that now, and am headed with terrifying speed towards the Jean-Luc Picard look. Ed.
I cannot thank you adequately for the posts on your website. I know you set a lot of time and effort into these and truly hope you know how much I appreciate it. I hope I'm able to do the same man or woman sooner or later.
Carmelo Witkowski
That's, er… very generous of you, but there's really no need. Honestly. Ed.
You definitely have a nack for writing Would it be to much to ask for more?
Karen Puckett
Not at all, even though your letter hails from the halls of the Ku Klux Klan. (No, really.) Perhaps in return you could tell us how you keep your sheets so white? Ed.
Good post, makes me want to start a blog.
Ralph Lauren
I wouldn't recommend it. You start out knocking out reviews and stolen pictures of scantily-clad girlies and confusing everyone with features about the comparitive merits of hamburgers vs bus journeys, and apples vs oranges, and then you promise to review every game ever made – after all, how hard can it be? – and the next thing you know it's twelve years later and you still haven't got around to finishing that novel.
On the other hand, it beats watching Hollyoaks. Ed.