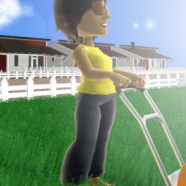 Feb

16
Tags
Related Posts
Share This
Distractions
Things that I have been doing since the last proper post:
Writing two different XBox 360 games: Avatar Lawnmower Simulator and an untitled Japanese-style action RPG.
Playing Halo: Reach.
Building a personal website to promote myself as a whole, rather than across a number of different websites.
Pondering methods of writing and selling some kind of fiction that would make the process worthwhile.
Playing Left 4 Dead 2.
Attending Jon's wedding. (Alright, that one didn't take that much of my time!)
Going on holiday in Germany.
Learning all sorts of things.
Turning 30. And also 31. (Erk.)
Avoiding 'scene' 'drama'. Because it makes me a very sad panda.
Some of these things will be expanded on shortly after I've fiddled about with the design of the blog a little bit. And then I'm going to talk about some games!