May

06
Tags
Related Posts
Share This
Sam Cruise Contacted!
As you may already know, I'm in the process of remaking the Microsphere classic Contact Sam Cruise. Well, I've a little bit more than just new screenshots to show you now – you can download a little playable demo and see how Sam moves around on the PC. Yes, I know it's in black-and-white – the graphics aren't what's being tested here. Cursor keys and CTRL to get around and use the doors.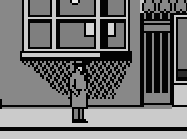 It's a Windows thing, folks, so those of you using Linux might run into a few problems. (Or not. I don't know – everybody's installation varies, doesn't it?) If you'd like to tell me how it's running, that'd be very helpful. There's a frame rate counter in the top left of the screen that should hover around 40, and it also seems to randomly crash when I hit 'start' on the main menu too. Still, it is only a demo, eh?
You can download the demo installer here.